Horse Stories
~
Whitey & I join the Circus

( Note: Guy wires are invisible to the naked eye of the unsuspecting person who is galloping toward them. )

I was fresh out of high school and contemplating going to college. Alas,
it was not to be! ( I actually graduated University quite a few years later. ) One evening just after I arrived home, my mother called me to the phone and I was asked if I wanted to join an exhibition troupe touring, rodeos, circuses and fairs. Now who could turn down sleepless nights spent on the road in strange towns, sometimes not knowing either the town s/he was in nor the date arrived there, or chilly sleepless nights spent in a freezing, heatless bunk van parked next to a manure pile. Not many who have smelled the tanbark, known the thrill of sitting around both telling strange tales and hearing even stranger ones or heard themselves being applauded by thousands of people who actually paid to see them perform.

So.....

I ran away and joined the circus.

( OK, I did tell my folks where I was going and they met the Warvels. )

Now Jim Warvel had acquired a new horse name of "Whitey", who
( being careful to mention no names )
an experienced someone had tried to whip break. ( Train the horse to always face a whip held in the trainer's hand.) Without going into another fascinating and exciting story, suffice it to say that it was the trainer who was 'horse broke' and not the horse who was 'whip broke'. Such a horse was Whitey, and naturally, since I seem to attract this type, Whitey fell to me as my mount.

Knowing this, I immediately negotiated a contract with my new mount. I had some difficulty since, although Whitey was trained to carry a rider over jumps, he pushed to negotiate the contract entirely in his favor like the true comedian he was. I am very proud to say, I at least got to negotiate my half
and we performed very well together,

until one dark day...

We were performing at a Barnam & Bailey circus somewhere in Texas.
We had been performing there for about a week or so
( time & place have no meaning when you're having fun )
when in the middle of a no-handed jump ( where the rider throws her arms out wide before and during the actual jump ) I was torn off my horse and bounced on the tanbark floor. It was like someone grabbed my right arm and refused to let go until I was on the ground. I felt my self bounce and heard the crowd hold its collective breath. After I bounced to a stop and collected my breath, I looked up to see where my horse had gone. Now Whitey was constantly trying to dive for the gap and I could never take my focus from him while near the out gate and I was constantly complaining, to anyone who would listen, about this. This time Whitey not only kept his place in line, passing the gap and jumping the next jump riderless, but he stopped and turned out to get his applause with the rest of the troupe, keeping his spacing flawlessly. He then followed the other horses and went into his stall proving me to be merely a decoration, and proving this not only to my boss and co-riders, but to all of the other performers and an audience of thousands. ( Actually the other performers merely laughed as they knew animal comedians from their own experience. )

When I saw this I turned beet red, I have never been so embarrassed in my life, as I had called out to the people who were near the gap to catch Whitey right after I had fallen. That's the closest I've ever come to a fist fight with a horse.

It seems that a flying act had moved a guy wire to better stabilize their rigging without informing the people who would use the outside track, they had done this after the jumps were set. A major sin in the circus, since that lack of information could kill or seriously injure another performer.
Jim was HOT to say the least!

You got me back fair and square for complaining about you, Whitey, may you live long and prosper wherever you are now. You are a true circus performer who knows his job.
and Thank You Jim for introducing me to the very talented Whitey.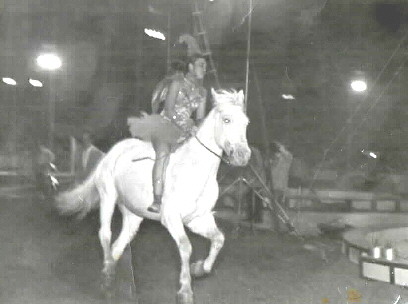 Whitey and I performing at the Barnam & Bailey circus somewhere in Texas.

These horse stories are the true experiences of D. Clarke
If you want the book, e-mail: treewise@juno.com