Chuck Grant
Father of American Dressage
Chuck Grant
with the Army Horse Jet, in 1938,
performing the bow.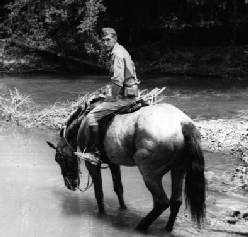 Chuck Grant
with the Army Horse Chico Lindo
in Tenneseee in 1941.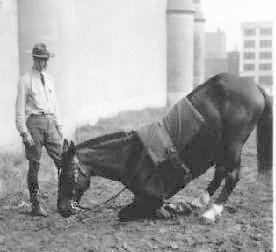 Chuck Grant
with the Army Horse Jet
at the Chicago Armory
in 1941, performing the kneel.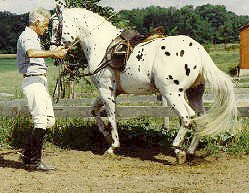 Chuck Grant
with the Appaloosa stallion Billie Joe Freckles
working Piaffe in Hand.
Owner: Kathy Stringer (1978)
Billie Joe Freckles (1968-1994) was the first Appaloosa to be shown
Grand Prix in America. In fact, there had been a friendly bet with Kit
Young in Florida as to who would be the first Grand Prix Appy -
Billie Joe or her horse, Lord Butterscotch. Billie Joe was sold by
Kathleen Stringer to Shelly Rosenberg in 1980, then sold to
Anne Gribbons a few years later where he was very influential in
introducing riders to t he sport of Dressage.


Chuck Grant with Bit-O-Shine
exhibiting a leg extension. Bit-O-Shine was a nationally famous exhibition and competition horse
in his day. Born in 1958, he was 3/4 Thoroughbred and 1/4 Saddlebred.
He was sold in 1971 to Trudi Peet of Colorado. He was later
sold to Ellin Dixon Miller. Chuck and Bit-O-Shine were the
winningest Grand Prix combination of that generation. The horse was
formally retired during a ceremony in his and Chuck's honor in 1980
during Dressage at Devon, Pennsylvania, where they were re-united
for one last ride.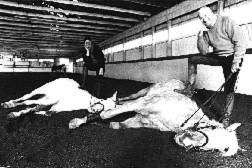 Chuck Grant and Mari Monda Zdunic
with Shine-A-Bit III and Prussian Dudley in November 1988.
Photo: Ann Arbor News , by Jim Jagdfeld.



Chuck Grant performing a circus bow
on Shining Gold, at Michigan State University
in the late 1960's.



Click to join ultimate_dressage
Index
All photos and script came from:
http://www.shineabit.com/